Injury Prevention Program
---
For a limited time, Cornerstone Physiotherapy is offering complimentary injury prevention assessments for athletes in the Markham/Unionville and Burlington communities.
Your free 30-minute injury prevention session includes:
A comprehensive sport-specific mobility assessment
Functional strength testing based on the demands of your sport/position
A sport specific injury risk profile to address areas of concern
Personalized mobility and strength exercise to improve performance and limit injury risk
Upon the completion of the injury prevention assessment you will receive a customized exercise  program designed to limit injury risk and improve sport performance.

Did You Know?
Over 36% of Canadian High School aged athletes will lose playing time due to a sport related injury

(

1)

The most common injury type for adolescent male athletes is fractures while females are more likely to suffer joint or ligament sprains

(

1)

Hockey players are 25 times more likely to be injured in a game than in practice

(

2)

The most common injuries in youth basketball are ankle sprains, finger sprains, finger fractures and knee sprains

(

3)

Systematic reviews have shown that injury prevention programs improve several modifiable intrinsic risk factors of lower extremity performance among youth athletes

(

4)
Injuries are a part of sport, and at Cornerstone Physiotherapy we are focused on injury prevention and performance improvement as much as we are on rehabilitation.  Helping athletes stay healthy and reach their personal best is a core tenant of what we do.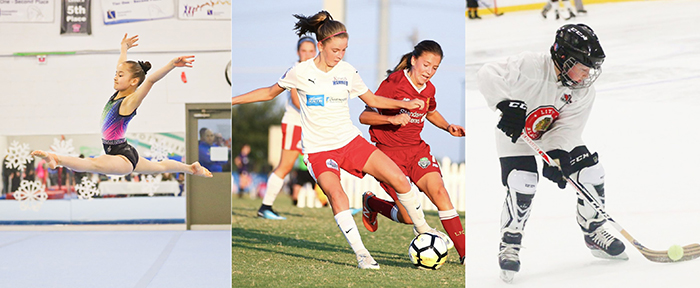 Experience Matters
At Cornerstone we have worked with elite national and professional athletes for many years. Over time we have developed unique ways to serve this community better. The Injury Prevention Program is designed to bring this level of prevention, rehabilitation and performance to your athletes.
We're On Your Team
To achieve success as an athlete many factors need to line up perfectly. It requires a supportive family, great coaching and passion for your sport. One often overlooked element for athletes is access to the best possible rehabilitation. It is so disappointing for an athlete when they have worked hard to achieve success, only to have their bodies fail them. At Cornerstone we ensure that our young athletes have every opportunity to compete by anticipating problems before they arise and providing world class treatment when they do.
Free Injury Screening Assessment
During the injury prevention assessment, the Physiotherapists at Cornerstone conduct a comprehensive movement screening assessment to identify movement faults, strength deficits and mobility restrictions.  This session also includes a personalized exercise program tailored to the athlete to boost performance and reduce their overall risk of injury.  This session is 100% free and does not require you to commit to any paid service.
Contact Us Today
If you would like to have your athlete or team assessed by the Physiotherapists at Cornerstone please contact us at:
EMAIL:
[email protected]
PHONE:
Markham (905) 209-6830
Burlington (289) 812-0246
---
REFERENCES:
 Black, A., Meeuwisse, D., Eliason, P., Hagel, B. and Emery, C., 2021. Sport participation and injury rates in high school students: A Canadian survey of 2029 adolescents. Journal of Safety Research, 78, pp.314-321.

Stuart, M. and Smith, A., 1995. Injuries in Junior A Ice Hockey. The American Journal of Sports Medicine

Pappas, E., Zazulak, B., Yard, E. and Hewett, T., 2011. The Epidemiology of Pediatric Basketball Injuries Presenting to US Emergency Departments: 2000-2006. Sports Health: A Multidisciplinary Approach, 3(4), pp.331-335.e, 23(4), pp.458-461.

Hanlon, C., Krzak, J., Prodoehl, J. and Hall, K., 2019. Effect of Injury Prevention Programs on Lower Extremity Performance in Youth Athletes: A Systematic Review. Sports Health: A Multidisciplinary Approach, 12(1), pp.12-22.

Clinics with Injury Prevention Programs