Voted 2023, 2022 & 2021 top physiotherapy clinic in the Greater Toronto Area




---
Shockwave therapy is a highly effective treatment used to accelerate rehabilitation in tissues that are typically slow to heal or have a tendency to heal incompletely. It is one of the only "technology-based therapies" that clinical research studies have consistently shown to be effective. Like any treatment, to be effective it must be applied correctly. At Cornerstone our physiotherapists are trained to recognize when shockwave therapy will be beneficial, and to develop treatment parameters that will result in the best possible outcome.
What Exactly is Shockwave Therapy?
Shockwave Therapy (SWT), is occasionally referred to as Extracorporeal Shockwave Therapy (ESWT). These terms are referring to the same thing and are therefore interchangeable.
The energy delivered by SWT is not electrical. It is a rapid high frequency mechanical vibration in the form of a Radial Pressure Wave (RPW).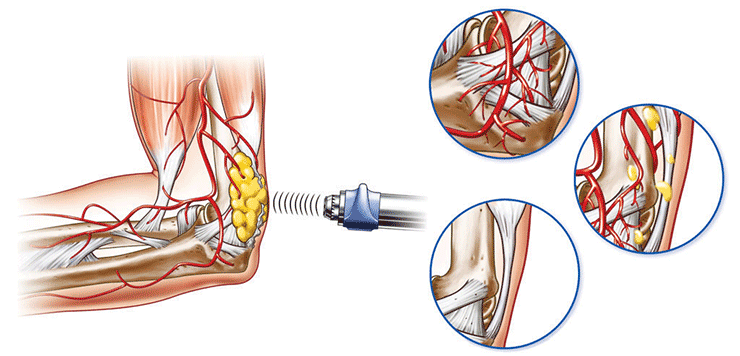 How Does Shockwave Therapy Work?
The radial pressure waves cause several changes to the target tissue.
1. Cellular Level Changes
A cellular increase in free radicals stimulate the release of natural metabolites that help prevent pain and resolve inflammation.
2. Vascular Changes
Quality blood flow is essential to tissue healing. Shockwave Therapy has been shown to stimulate angiogenesis (creation of new capillaries) in the target tissue. This redirects local blood flow to the area resulting in healthier tissue and improved healing.
3. Reduction in Muscle Spasticity
Research has demonstrated that SWT can reduce contractile activity of muscle and break neuro-cognitive pain patterns resulting in decreased muscle spasm, and elimination of myofascial trigger points.
4. Reduced Pain
Shockwaves act on interneurons in our A-β nerve fibers preventing communication of pain to our brain. This is known as the Gate Control Mechanism and it has been shown to effectively reduce pain levels.
Stated simply, shockwave therapy allows us to use the body's natural response to acute injury in order to stimulate a healing response in tissues that are either slow to heal, or in which healing has stalled.
Conditions Treated With Shockwave Therapy
Some common conditions that are treated with SWT are listed below. However, at Cornerstone, an experienced physiotherapist will assess your condition to determine the likelihood that SWT will have a meaningful impact on your recovery.
Plantar Fasciitis
Heel spurs/Heel pain
Calcific Tendonitis
Patellar Tendonitis (Jumper's Knee)
Achilles Tendonitis
Myofascial Trigger Points in muscle
Iliotibial Band Syndrome (IT Band Syndrome)
Bursitis
Heterotopic Ossification (Myositis Ossificans)
What our shockwave therapy patients say...
I struggled with plantar fasciitis for over a year. I had to stop running and had pain every day. I tried everything and was skeptical that anything would help. Four shockwave treatments and I am cured. I honestly still can not believe how well it worked. If you have a stubborn injury – try it!
What our shockwave therapy patients say...
Cornerstone Physiotherapy has helped me with my tennis elbow and golfers elbow. Dan MacKinnon is an exceptional Physiotherapist. Shock wave therapy is a painless and effective treatment. The staff are lovely and very accommodating. Thank you!
What to Expect at Your Shockwave Therapy Appointment
Assessment of your condition
To determine if SWT is right for you we will assess your condition. We will only recommend you proceed with shockwave therapy if we feel it will make a meaningful difference to your rehabilitation.
Development Of a Plan
Based on the findings of your assessment we will recommend a treatment plan including the ideal shockwave parameters, frequency of treatment and any additional exercises or stretches you need to be doing between treatments.
Your First SWT Treatment
We will use our state-of-the-art Storz Shockwave System to deliver your treatment. Most treatments take 4-6 minutes to complete.
After Care
We will provide you with information on what you should and should not do between appointments to get the best possible results.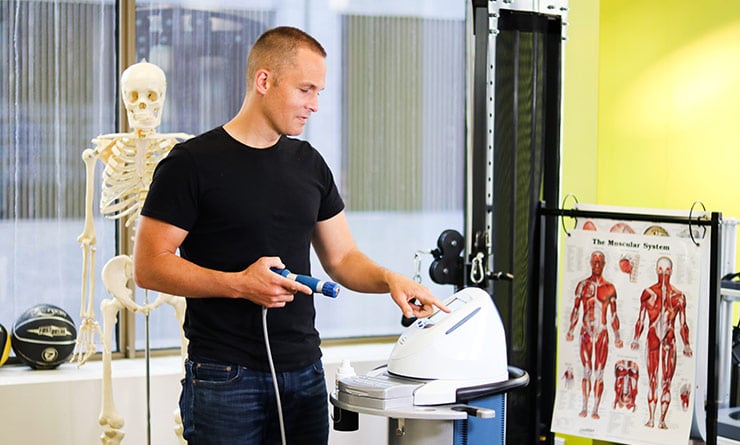 Does Shockwave Therapy Hurt?
Shockwave Therapy creates mild pain during treatment that typically does not continue afterwards. Most patients tolerate this pain well, and our physiotherapists can adjust the intensity of the pulses to ensure you are comfortable with your treatment.
SHOCKWAVE THERAPY REFERENCES
Extracorporeal shock wave therapy as a treatment for heterotopic ossification. Physical Therapy Reviews. Aug2013, Vol. 18 Issue 4, p300-307.
Treatment for insertional Achilles tendinopathy: a systematic review. Knee Surgery, Sports Traumatology, Arthroscopy. Jun2013, Vol. 21 Issue 6, p1345-1355.
A single application of low-energy radial extracorporeal shock wave therapy is effective for the management of chronic patellar tendinopathy. Knee Surgery, Sports
Traumatology, Arthroscopy. Feb2013, Vol. 21 Issue 2, p346-350.
Conservative Management of Midportion Achilles Tendinopathy. Sports Medicine. 2012, Vol. 42 Issue 11, p941-967.
Shockwave therapy for chronic Achilles tendinopathy: A double-blind, randomized clinical trial of efficacy. Acta Orthopaedica. Apr2008, Vol. 79 Issue 2, p249-256.
Extracorporeal shock wave therapy in runners with a symptomatic heel spur. Knee Surgery, Sports Traumatology, Arthroscopy. Oct2006, Vol. 14 Issue 10, p1029-1032.
Extracorporeal shock wave therapy promotes cell proliferation and collagen synthesis of primary cultured human tenocytes. Knee Surgery, Sports Traumatology, Arthroscopy. Dec2011, Vol. 19 Issue 12, p2159-2168.
The Efficacy of Extracorporeal Shock-Wave Treatment: A New Perspective. Athletic Therapy Today. Nov2005, Vol. 10 Issue 6, p50-51
---
We're not your usual shockwave therapy clinic.
Shockwave Therapy Fees
---
Shockwave Therapy + Physiotherapy Assessment
Shockwave Therapy + Physiotherapy Treatment
Shockwave Therapy Assessment
Shockwave Therapy Treatment Questions? We're happy to help!
Choosing the right service provider can be a big decision. We're dedicated to answering any questions you have to help you make the best choice. Contact us today and ask us anything!
Call us at (416) 595-5353

Our Shockwave Therapy Clinics