Voted 2023, 2022 & 2021 top physiotherapy clinic in the Greater Toronto Area




---
At Cornerstone we know that to achieve excellent results we must make the right device for the right patient. That's why our Toronto, North York and Burlington orthotic technicians are all Registered Physiotherapists who will thoroughly assess and diagnose your condition. We only recommend a custom foot orthotic if your assessment findings indicate that it is likely to make a real difference to your pain or function. With over a decade of experience, we know how to craft a custom foot orthotic for maximum impact while ensuring a comfortable fit.
What Does a Custom Foot Orthotic Do?
The human foot is a biomechanical marvel. It is capable of adapting to a lot of stress. But our everyday lives dole out a lot of punishment. During regular activities like walking and climbing stairs they absorb up to three times our body weight. When exercising, forces can be as high as seven times our weight!
This makes them vulnerable to injury. It also means that if our feet are not functioning optimally, those forces can be passed on to our knees and hips causing injury in those areas. The aim of a well made custom orthotic is to align the foot and ankle to be able to absorb force appropriately, and to minimize areas of excessive strain on the joints and soft tissues. To learn how an orthotic accomplishes this, check out our article here.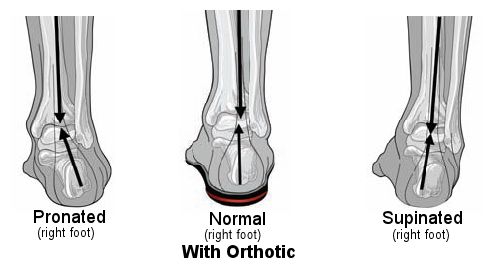 Why Choose Cornerstone's Orthotic Clinic?
A Comprehensive Custom Orthotic Assessment
The advantage of having Registered Physiotherapists who are experienced orthotic technicians is that they provide a full orthopaedic and functional assessment. They are ideally suited to determine if an orthotic will be helpful or if another treatment approach will yield better results. At Cornerstone, we see this as a critical first step toward your recovery.
An Accurate Diagnosis
Being experienced orthopaedic physiotherapists we diagnose musculoskeletal problems every day. An accurate diagnosis is important for a few reasons. It helps us to know what strategies have worked well for other patients with the same condition and it allows us to develop an accurate prognosis and plan.
Superior Foot Orthotic Technology
Newer is not always better. This is especially true in the world of foot orthotics. The clinical leadership team at Cornerstone assesses foot orthotic technology as it emerges and only adopts tools that lead to a better or more precise device. Some of the technology we have chosen to use are 3D scanning of the foot and ankle in various positions, as well as 3D printing for some specialized devices. Rest assured we will match the process we use to your needs.
A Quality Custom Foot Orthotic
Cornerstone's clinics use the best foot orthotic labs in the industry. We insist on the highest level of quality craftsmanship and a perfectly custom device made to our specifications. Anything less is unacceptable.
Ongoing Orthotic Support
When you get an orthotic from Cornerstone our commitment to you lasts long after you receive the devices. We are always here to answer questions, or make any adjustments that are necessary to get you the best outcome possible.
What our orthotics patients say...
I had severe knee pain when I initially came into Cornerstone. Luckily I booked an appointment with the kind and attentive Jocelyn….She recommended orthotics for my flat feet to reduce the impact on my knees. Overall, the quality of the orthotics is great, better than the ones I've used in the past. And I notice a huge difference with their use.
Common Conditions Treated With Foot Orthotics
It is important to note that every patient's situation is different. Not all cases of plantar fasciitis require an orthotic, but some will find it to be an enormous help. This is why we always start with a thorough biomechanical assessment. That being said, here are some conditions that may benefit from a foot orthotic:
Plantar fasciitis
Heel spurs
Metatarsalgia
Excessively pronated and supinated feet (flat or high arches)
Morton's neuroma

Osteoarthritis

or pain in the joints of the feet
Compensatory knee, hip and back pain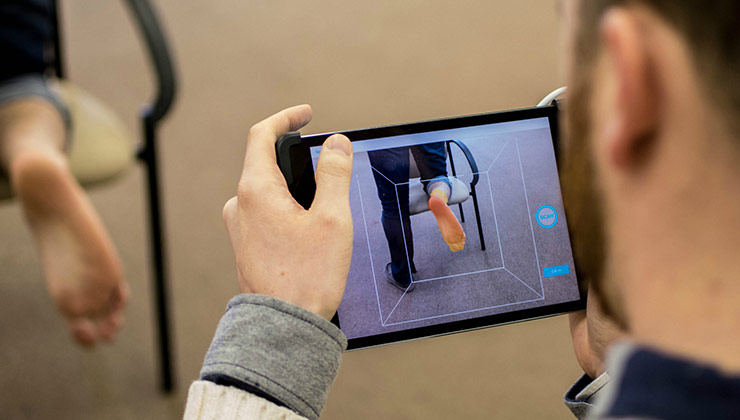 Will My Foot Orthotics Be Covered By Insurance?
Every insurance plan is different, so we recommend that you check with your insurer what stipulations they have for reimbursement. Cornerstone will provide documentation of a gait assessment, biomechanical examination and a letter outlining the fabrication process of our foot orthotics. Along with the receipt for payment this will assist with your insurance claim. Some insurers require that a Pedorthist make and dispense your orthotic, if that is the case, rest assured we will book you with our resident pedorthist.
---
We're not your usual orthotic clinic.
Orthotics Pricing
---
1 pair of Custom Foot Orthotics


* fee includes assessment and fitting appointments.
Fee for assessment without the purchase of orthotics Questions? We're happy to help!
Choosing the right service provider can be a big decision. We're dedicated to answering any questions you have to help you make the best choice. Contact us today and ask us anything!
Call us at (416) 595-5353