by Adam Brown
updated July 16, 2020
Top 3 Tips for Preventing Low Back Pain
1)  Switch it Up
2) Work your core
3) Stretch your hips

1) Switch it up!
Your spine is designed to move. Unfortunately, many of our lives promote the opposite. Sitting or standing still for extended periods of time puts you at risk of developing lower back pain so try to switch up your position every 30 minutes. Many people are starting to discover the benefits of the standing desk,but we suggest going one step further and using an adjustable desk that can change into a variety of positions throughout the day.
2) Work your core
You've probably heard this one a million times, but did you know that it is not really all about core strength? You need to develop the endurance of your core muscles, which requires exercises that have moderate to low intensity but very high reps. Doing something to improve your core muscle performance every day will place you ahead of the game.
3) Stretch your hips
If your hamstrings, hip flexors and glutes are tight, you have no choice but to rely on your lower back for movements that should be handled by your hip joints. Doing simple stretches before or after your daily workout will pay off in the long run.
If you still develop back pain, don't panic. You are not alone! Come in to see us, and we will help you get on the road to recovery as quickly as possible.
---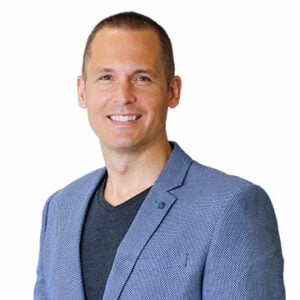 Adam Brown        MClScPT
Registered Physiotherapist
Adam is a well-known physiotherapist for successfully treating complicated spinal patients in Toronto and beyond. He helped pilot the launch of the Inter-Professional Spine Assessment and Education Centre program in the GTA and loves teaching fellow physiotherapists in all matters spinal! Questions? We're happy to help!
Choosing the right service provider can be a big decision. We're dedicated to answering any questions you have to help you make the best choice. Contact us today and ask us anything!
Call us at (416) 595-5353