by Adam Brown    BScPT   MClScPT
Registered Physiotherapist
updated   Aug 19, 2020
At Cornerstone Physiotherapy we recently interviewed a group of our patients who had sustained significant injuries and made a complete recovery in record time. We wanted to hear their perspective on what it takes to ensure the best possible outcome from a Physiotherapy clinic experience. Some common themes emerged that we think all patients would benefit from. Here is what these Physiotherapy superstars had to say.
1. Do My Research
"Like everything in life a little research goes a long way. I checked out reviews, and talked to friends and colleagues before choosing which physiotherapy clinic I was going to attend. Not all clinics are the same. I wanted to make sure that the clinic I went to had experienced physiotherapists who were experts in the type of treatment that I needed. It was important to me that I spend my time in the clinic working with my physiotherapist one-on-one and that appointments were long enough to accomplish my goals."
2. Find a Physiotherapy Clinic Near Me
"It is difficult from me to carve time out of my schedule for appointments so it was important to me that the clinic was nearby. I knew that I would need to attend several appointments so it had to be as convenient as possible. I only considered physiotherapy clinics that were on my usual daily commute and easily accessible by transit. This made it easier to follow through on my treatment, and ensured that I didn't waste any time travelling."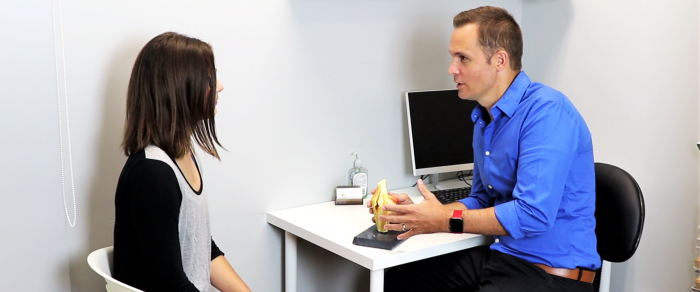 3. Active Physiotherapy is Superior Physiotherapy
"I had been to physio a few times in the past. The first clinic I went to mostly used machines and treatments where I was doing very little. It was relaxing and felt good at the time, but it did not really help my injury. I have since learned that for physio to work well it must be active. It makes sense! How can you expect your body to change unless you put in the work. So when I was looking for a clinic I made sure to find a place that insisted an active approach to therapy. It is amazing how much you can change your body with a well designed plan of action!"
4. Setting and Measuring My Goals
"I am all about measurement. I knew that if I wanted to stick to a difficult rehab process I needed to measure my progress so that I could be motivated by small changes. My physiotherapist helped me to know what to measure and tracked my progress with me. It made all the difference and motivated me to be diligent with my homework throughout the process."
5. It is All About Routine
"I find it really hard to fit new things into my busy life. Whether it is exercise, appointments or a new habit I am trying to create. That's why in the past physiotherapy had not worked for me. This time my physio really focussed on building a routine for me. We talked about exactly when, where and how  was going to do my home exercises. We talked about what equipment was available at home and when in my day I would be able to do it without being interrupted. This small change made all the difference. I was able to stick to my part of the plan and the results were so much better!"
6. Take a Step Back
"The physio I worked with helped keep me on track by helping me step back from my pain and see the whole plan. Once I could see how far I had come and appreciate how the plan we made was getting me better it was much easier to follow through on my treatment. Some days you get so caught up in the small ups and downs that it can be difficult to appreciate the whole journey"
---
So there you have it. Some insider tips from patients that have had great success with their physiotherapy. A great deal of time and energy goes into your recovery. Make sure you consider all of these points and you will increase your chances of success!
Read our 8 TIPS for Finding the Best Physiotherapist for you, by clicking here! Questions? We're happy to help!
Choosing the right service provider can be a big decision. We're dedicated to answering any questions you have to help you make the best choice. Contact us today and ask us anything!
Call us at (416) 595-5353