by Ala Hojjati
Registered Physiotherapist
updated July 15, 2020
---
My Physiotherapy Clinic Closed Due to COVID-19, What Do I Do Now?
At Cornerstone Physiotherapy, your health and safety remains our top priority. In light of recent developments surrounding the coronavirus, our clinics will be closed for face-to-face or in-person treatments. However, we value your well-being and are still operating virtually. This means that you are not alone in your recovery, and can access our expert physiotherapists using virtual physiotherapy.
What is Virtual Physiotherapy?
Virtual physiotherapy, or tele-rehabilitation, involves using video calls to provide physiotherapy services remotely. Whether you have barriers that make it difficult to leave your home or simply prefer the convenience of care on your terms, you can connect with our experienced physiotherapists for a 1-on-1 session from anywhere in Ontario. This type of physiotherapy upholds the same safety, effectiveness, and ethical standards of care as in-person visits (see College of Physiotherapists of Ontario for more information).
What Types Of Physiotherapy Are Provided With Video Consults?
We provide virtual / video consultations to all of our patients including people with musculoskeletal, vestibular or pelvic health conditions.
How Does Tele-Physiotherapy Work?
You simply connect online for a video physiotherapy session in real-time using a computer, tablet or smart-phone.
Prior to your appointment, you will receive an email with the secured link to your session. Simply clicking on the link will enable video and audio with your physiotherapist. Any required paperwork will also be emailed to you ahead of time.
What to Expect From Your Virtual Physiotherapy Session?
During your online video physiotherapy session, our expert physiotherapists will:
Take a complete history of your concern
Assess and accurately diagnose your injury, area of pain or concern
Perform a functional movement examination
Evaluate your range of motion and strength
Listen to your concerns, and answer any questions you may have
Explain your pain, condition or injury – and how to manage it
Provide a full rehab plan to follow in your own environment
Prescribe exercises and stretches – with supporting photos/videos
Correct exercise form and provide cues to perform them more effectively
Progress or modify your current treatment plan to better match your personal goals
Provide and refine self directed soft tissue and/or self joint mobilization techniques
Help train another person to assist you with exercises or stretches
Provide an ergonomic assessment in real-time
Recommend necessary equipment – braces, tape, orthotics, etc
We cannot provide manual therapy by the therapist, or acupuncture/dry needling using virtual physiotherapy.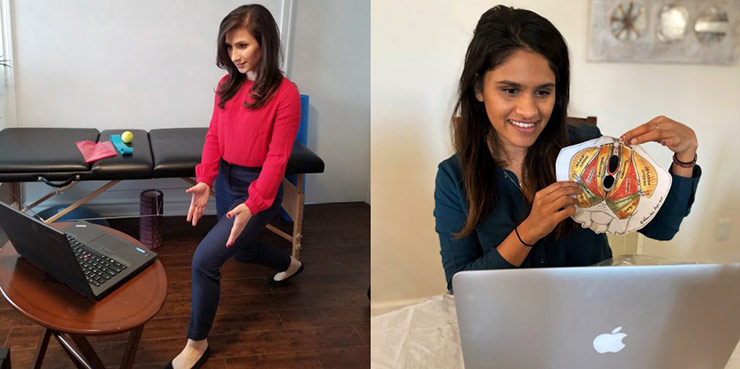 Is Remote Physiotherapy Actually Effective?
We pride ourselves on consistently delivering the high quality of care that you have come to know from Cornerstone since 2008. Our virtual or remote physiotherapy has a lot, if not all of, the same benefits as in-person sessions. During a video physiotherapy session, you will still work directly with your physiotherapist to discuss, assess, and diagnose your problem, just like in the clinic. You will then discuss an individualized treatment plan to manage and alleviate your symptoms from the comfort of your home. This can include guiding your post-surgical recovery, back and neck pain, sprains and strains, osteoarthritis, vertigo, postnatal issues, etc. You don't believe us? Check out the testimonials from our patients.
But How Can Physiotherapy Be Effective Without Hands-On Treatment?
It may come as a surprise to some that physiotherapy can be delivered online, without the use of manual therapy or hands-on treatment. However, physiotherapy is more than one type of treatment, and the depth of our skills and expertise are not limited to our hands. Our physiotherapists' ability to help you achieve your goals comes from more than 6 years of University education, endless hours of specialized courses and mentorship, and thousands of clinical cases over the years. In fact, there is a great body of evidence in literature to show that tele-physiotherapy can have similar assessment reliability, treatment effectiveness, and patient satisfaction as in-person physiotherapy (links to research articles are here: 1 2 ).
At Cornerstone Physiotherapy, we are brilliant at diagnosing the root cause of your problem, and finding you the most effective treatment solution, regardless of in-person or virtual access (learn more about what to expect from an outstanding physiotherapy clinic here).
Are There Any Benefits To Virtual Physiotherapy Over In-Person?
We highly value the face-to-face interactions with our patients. However, when in-person sessions are not feasible, research suggests that video physiotherapy is a viable alternative. Not only do you receive care from the comfort of your own home, but it also allows your physiotherapist to adapt your home program specifically to your home environment on the spot. It also encourages more active partnership from patients with their therapist towards specific rehabilitation goals.
Is Telehealth / Virtual Physiotherapy Covered By Insurance?
Yes, the majority of extended health benefit plans in Ontario (which cover in-person physiotherapy) cover telehealth physiotherapy sessions. These insurers include, but are not limited to, Sunlife, Manulife, Great West Life and some Motor Vehicle Accident clients. However, insurance policies are constantly evolving and we advise that you contact your insurance company to confirm your coverage details.
At Cornerstone Physiotherapy, we are also continually advocating on behalf of our patients. In fact, our co-founder Adam Brown spoke to Global News to urge insurance companies to expand their coverage for virtual physiotherapy given the role of rehabilitation during situations of trauma, including the COVID-19 pandemic (see full article). This helped galvanize the change in the province.
---
How To Make An Appointment?
You can call us at 416-595-5353 or email us at [email protected] to access our highly credentialed physiotherapists, from the comfort of your own home or workplace.
Still Unsure If Remote Physiotherapy Is Appropriate For You?
Speak with one of our Registered Physiotherapists for a 10 minute free consultation by contacting us. We are more than happy to help answer any questions or concerns!
---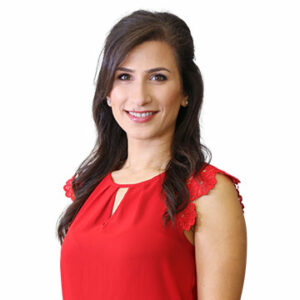 Ala Hojjati        MScPT
Registered Physiotherapist
Ala is an accomplished physiotherapist with experience in many areas of care including orthopaedics, concussion recovery, and vestibular rehabilitation. Her well-rounded approach to physiotherapy is formed by prior experiences in clinic management, global health advocacy, and research in health equity. Questions? We're happy to help!
Choosing the right service provider can be a big decision. We're dedicated to answering any questions you have to help you make the best choice. Contact us today and ask us anything!
Call us at (416) 595-5353