Make the most out of your tele-rehabilition experience. Here's how you should prepare.
by Dan MacKinnon
updated July 16, 2020
It feels like there are advances in technology happening all the time. This can be exciting, and means new possibilities in many aspects of our lives. This includes being able to access a registered physiotherapist from the comfort of your home through virtual physiotherapy. That said, a new experience, especially when it comes to technology, can be intimidating. However, a little bit of preparation can put your mind at ease. If you are wondering what you might need to get the most out of your tele-rehabilitation experience, here at Cornerstone Physiotherapy we have you covered.
How will I connect with my therapist?
You will connect face-to-face digitally with your physiotherapist through video-conferencing. A secure link, with clear instructions on how to easily login to the session will be sent to your email. You can open this link in any of the supported web-browsers including Chrome, Firefox, or Safari, checking that you have turned off any pop-up blockers. 
What if I'm having trouble getting connected?
Don't stress. Your therapist can help you with any troubleshooting you may need. If you are not connected within a few minutes of your appointment time, your physiotherapist can reach you at the number you provided on your intake form. They will walk you through getting set-up for your first appointment if there are any issues. At any time you can also always call (416) 595-5353.
What device can I use for my virtual physiotherapy appointment?
Our tele-health video conferencing is supported by almost any device with camera, and an internet connection. So you can use your laptop, smart-phone, tablet or computer with a web-camera for your appointment. We do recommend checking that your device is fully charged, and has a stable connection to the internet.
Will my home work for a virtual physiotherapy session?
Most of our clients complete their sessions from the comfort of their own home. There are a few things that you can do to optimize your space ahead of time. 
1. Choose a quiet space that is private. 
A quiet and private area will allow you to easily communicate with your physiotherapist throughout your session. This way you can discuss your case, and clearly hear any instructions, or answers to your questions.
2. Minimize distractions. 
Set yourself up to be able to focus on your appointment. Where possible, turn off any non-emergent notifications, or other devices in your space. It may be helpful to block this time in your schedule like you would any other meeting or appointment, so that others do their best to not disrupt you. If you wish to have someone else with you or attending alone is not possible, this is not a problem.  In fact, read the extra tips at the end of this article to learn how an extra set of hands can help you make the most of your tele-health session. 
3. Have some room to move.
During the appointment your therapist will guide you through various movements in order to complete a thorough assessment. Choosing a space where you can step back from your device to provide a wider view can be helpful so your therapist can observe these movements fully. Depending on the nature of your injury and goals, having some extra space to move is also useful when demonstrating exercises as part of your individualized treatment plan.
4. Lights. Camera. Action.
No need for a professional photography studio, however, to make the video as clear as possible, choose an area that is well lit. Plan to start your session by setting yourself up so you can sit and have a face-to-face conversation with your therapist through your device. Throughout the appointment you may need to move yourself, or your device to change viewing angles depending on what your therapist is observing or the movements you are performing.
Do I need any exercise equipment for my telehealth physiotherapy appointment?
This will depend on your individualized treatment plan, and your therapist will suggest any equipment that you may need to complete your exercise program. With a little creativity, most exercises can be completed with equipment you already have available to you. Before your appointment you can think about what types of equipment you may have access to. 
What should I wear?
How to dress may depend on the type of injury and area involved. Wear something that makes you feel comfortable and can move easily in. When possible, it can be helpful to choose clothing that allows your therapist to see the injured area. This can help them to gather information about your injury by observing the area directly for quality of movement, redness, swelling, or bruising. Generally shorts and a tank top or t-shirt will work well. 
How much time will I need for my appointment?
Your initial assessment will be scheduled for 60 minutes to develop a thorough understanding of your injury, and initiate a personalized treatment plan. Follow-up sessions are 30 minutes, and all sessions are one-on-one with your physiotherapist. We recommend being ready at your computer a few minutes before your appointment.  You will receive an email invitation to start your session at the time of your appointment. Based on your individual needs, your therapist will prescribe how often to complete your exercise program, as well as discuss when to schedule follow-up treatment sessions.
What type of information will I need ahead of time?
You will receive an intake package prior to your appointment, which you can complete before your session. This will provide details that are helpful for your physiotherapist to review beforehand such; as identifying the area of concern, previous treatments you may have had, and your past medical history. While you do not need a doctor's referral to participate in physiotherapy treatment, you can provide this if you have one along with any relevant test results or medical documents you may have available.
The intake package also provides information for our administrative team to help with processing your claim. This may include your contact details, extended health benefits information, or claim numbers if this is in regards to a workplace injury or motor vehicle accident. You may also want to check with your benefits plan, as some extended health plans do require a physician's referral to be reimbursed. 
Extra Tips for the Perfect Virtual Physiotherapy Session
Have an extra set of hands.
Having someone else available who can assist you through your session can enhance your experience. Under the guidance of your physiotherapist, another person can assist you with movements. They can also learn to perform treatment techniques that require an extra set of hands. The person assisting you can also help by moving the camera to allow for multiple viewing angles for your therapist's observations. 
Think about your goals.
We want to help you with your recovery, and achieve your goals. Consider what would be most meaningful for you to get out of your physiotherapy experience. This will be discussed with your therapist throughout your appointments, but you can always prepare goals or questions you may have ahead of time. Having these ready can help guide your treatment plan, and tailor the program to meet your needs.
What if I have more questions?
If you have any further questions we are here to answer them. We offer free 10 minute phone consultations where you can speak directly with one of our registered physiotherapists. They can help you decide if tele-rehabilitation is right for you. For more information you can call (416) 595-5353 or email us at [email protected].
We also have more information available at our Cornerstone website. You can also access our most Frequently Asked Questions page to see other commonly asked questions.
---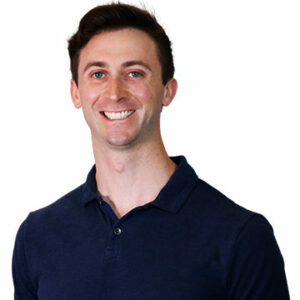 Dan MacKinnon       MScPT
Registered Physiotherapist
Dan is an experienced physiotherapist with a clinical background in orthopaedics, concussion management, and vestibular rehabilitation and a professional background as a clinic manager. His ability to engage and motivate his patients through effective communication, deserves much of the credit for his success in rehabilitation. Questions? We're happy to help!
Choosing the right service provider can be a big decision. We're dedicated to answering any questions you have to help you make the best choice. Contact us today and ask us anything!
Call us at (416) 595-5353