As Physiotherapists, we are often asked by our patients to recommend specific brands of pillows.  This can be quite difficult due to the multitude of factors that can go into choosing a pillow.  No two bodies are the same and therefore there is not one "best" pillow we can recommend.
On average, people spend about a third of their lives sleeping and yet many of us have not put much thought into what we are sleeping on.  I am here to break down the different pillow types that are offered today and how to choose the best one for you based on your preferred sleeping position.
How Often Should I Change My Pillow?
I typically recommend changing your pillow every one to two years, especially if you're using one with a down feather filling. A good indicator that it's time for a replacement is if you're experiencing new neck or back pain or the filling is no longer distributed evenly. You may be able to get away with longer if you are using a harder material like memory or polyfoam.
What Are the Best Pillows for Different Sleeping Positions?
Let's be honest, we have very little control of how we sleep at night!  You may become acutely aware of the type of sleeper you are if you are dealing with some sort of pain that prevents you from sleeping in your usual position. Some of us move around very little, and others a lot more.  The following are considerations for choosing a cervical pillow based on the posture you feel you spend the most time in throughout the night.
The Best Pillow for Back Sleepers
A fairly flat pillow is the best choice if you sleep on your back.  You can add extra support to the space between your neck and the pillow as needed with a small rolled towel or roll-shaped pillow. This addition can be placed directly against your skin or in the pillowcase to prevent it from shifting around. Some pillows combine both of these elements by including a roll-shaped area for the neck and a lower area to cushion the head.
Many people find that sleeping with the shoulders off the pillow will achieve this effect if the pillow they are using is on the flatter side. Tucking the pillow under the shoulders will position the head further up on the pillow so the neck is slightly extended. This position may be more comfortable for those with neck pain.  Additionally, it is recommended to place a pillow under your knees when sleeping on your back to minimize strain on your lower back.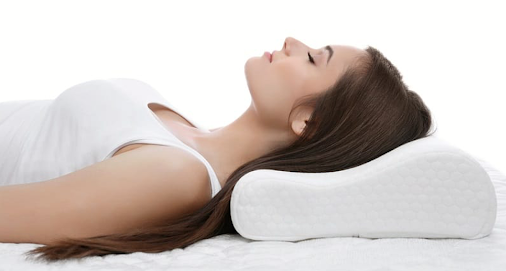 The Ideal Pillow For Side Sleepers
If you have a firmer mattress, the best choice for side sleepers is to choose a thicker pillow. This will allow your neck and head to align right over your shoulders. If you have a memory foam mattress topper or a pillow-top mattress, you will need a slightly thinner pillow as your lower shoulder will sink further into the bed. If there is a gap between the side of your neck and the bed below, you can add a rolled towel or roll-shaped pillow in that empty space.
Resting one arm on an additional pillow in front can be helpful for those suffering with shoulder pain. Another pillow can be placed between the knees to help achieve a neutral spine position. Some body pillows may provide support similar to this mix of pillows.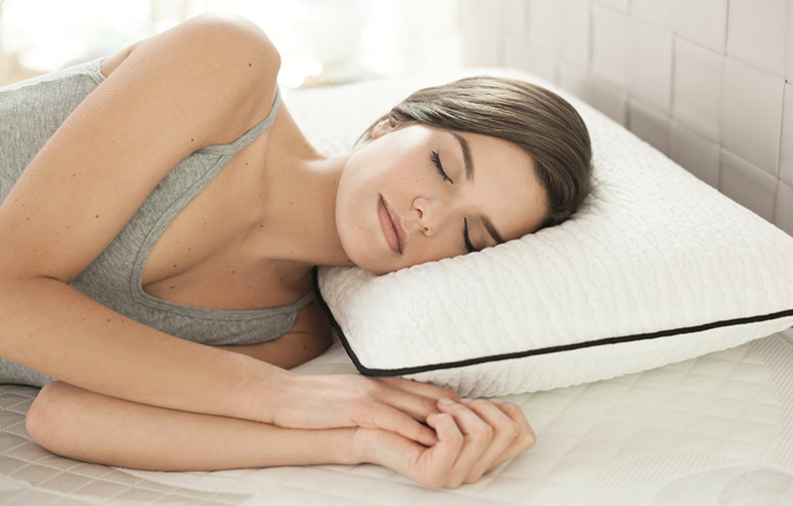 The Right Pillow for Stomach Sleepers
Many professionals do not recommend this position due to the asymmetrical positioning of the neck in order to breathe. However, changing sleep patterns can be a considerable challenge.  I personally am a stomach sleeper despite always starting the night on my side.  If you are like me, a flatter or no pillow at all is recommended.
Another option is to try positioning a pillow under your forehead so the head and neck can remain in a more neutral position.  Additionally, the hips and abdomen can be supported with another pillow if that is comfortable for you.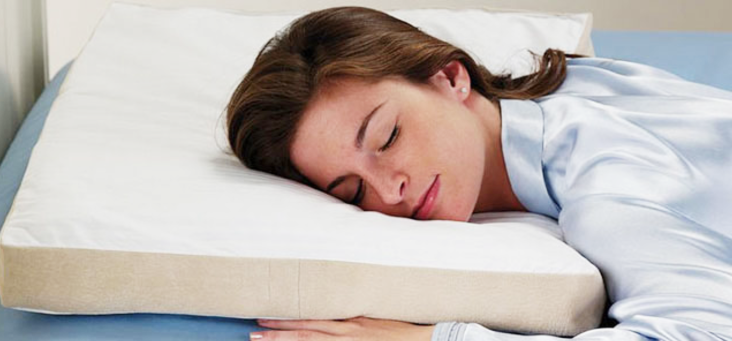 Pillows for Upright Sleepers
Sometimes circumstance dictates you to sleep while sitting up or on an incline. This could be due to medical conditions like sleep apnea, if you have considerable neck or back pain, or when travelling.  Horseshoe shaped pillows can be helpful for avoiding unnecessary neck strain when sleeping in a sitting position. These small pillows support the neck so the head doesn't fall too far to one side.
Care should be taken to avoid choosing too large of a neck pillow so that your head is aligned squarely over the shoulders and not pushed forward. For anyone who is more comfortable sleeping on an incline, this type of pillow would be recommended.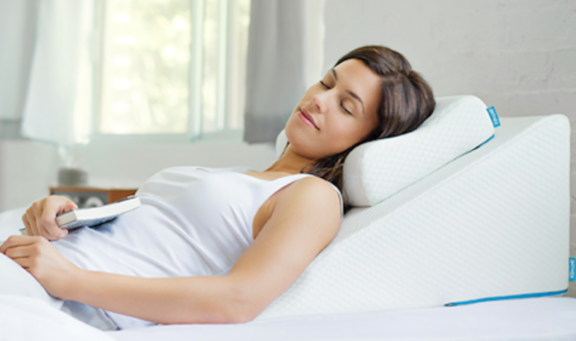 What Material Should My Pillow Be?
This often comes down to personal preference.  I'll break down the most common pillow materials and the pros/cons of each.
1) Memory Foam
A memory foam pillow changes shape in response to the heat from your body and weight of your head.  This material is hypoallergenic, often inexpensive, and widely available to consumers. However, its relatively slow response to pressure may be frustrating to sleepers who change positions throughout the night. It will also retain heat so if you are generally warm at night, you may want to skip memory foam.
2) Feather
Feather pillows are often very soft and conform to your head nicely. Some brands will give you the option of removing or adding feathers to adjust the loft.  Unfortunately, these pillows tend to flatten over time and will alter the support they provide when the feathers are displaced.
3) Down
Not to be confused with feather, down filler is made from the inner feathers of ducks and geese. These pillows are extremely soft and lightweight. They are on the pricier side and can provoke allergic reactions to those with sensitivities. Much like traditional feather pillows, down pillows will inevitably lose their shape and supportiveness with use.
4) Latex
Natural latex filling allows these pillows to cradle the user's neck while minimizing pressure points. Many brands will have small holes to allow for temperature regulation. However, these pillows often come in one piece and therefore cannot be adjusted easily. Organic latex is a very sustainable option but does raise the price tag. Definitely avoid these pillows if you have a latex allergy.
5) Buckwheat
Buckwheat is a natural material that is breathable, hypoallergenic, durable and environmentally friendly. They are quite expensive and can take some getting used to as they are harder than traditional pillow types. Many reviews also cite that they are quite loud so skip Buckwheat if you are a light sleeper!
6) Polyfoam
Polyfoam pillows are the pillows you see that come in interesting shapes to allow for specific contouring to the body. They respond more quickly to pressure than memory foam but will also trap heat. They are lightweight, affordable, hypoallergenic and machine washable. Due to natural indentations that develop with use, they will have to be replaced more quickly than the other pillow types mentioned.
Ultimately, there are endless options of pillows to choose from that suit a variety of needs and budgets. It is definitely worth trying a few out to see what provides you with the proper support. Many companies offer money-back guarantees so you can return or swap them if they don't work for you.
---
If you are suffering from neck, shoulder or back pain and are wondering if your pillow is contributing, we recommend scheduling a Physiotherapy evaluation at Cornerstone. Your therapist will assess your joints and muscles in order to provide you with education on possible contributing factors, including your sleep position and pillow.  We are just a phone call away!
Photo credits:  TerryCralle, Sleep Association, TryMattress, MentalFloss, Piles of Pillows, GreenHead Questions? We're happy to help!
Choosing the right service provider can be a big decision. We're dedicated to answering any questions you have to help you make the best choice. Contact us today and ask us anything!
Call us at (416) 595-5353