by Adam Brown    MClScPT    FCAMPT
Registered Physiotherapist
updated July 18, 2020
The Anterior Cruciate Ligament (ACL) is the primary mechanism that stabilizes the knee against forward and rotational movement of the lower leg.  It is critical for higher level physical activities that involve starting/stopping, cutting, and turning.  Injuries to the ACL are among the most common knee injuries and we are seeing this number growing among young girls, particularly aged 15-20 years of age.  Girls are also less likely than boys, to return to sports and more likely to have surgery on their knee.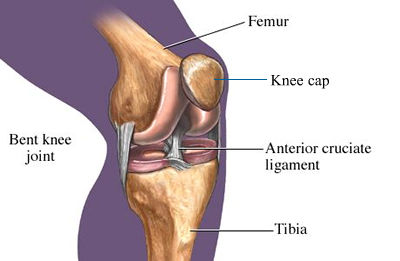 Preventative training can significantly reduce young athletes' risks of serious knee injuries and specifically lowers the chance of an ACL tear by up to 72 percent (based on a recent report from the American Academy of Pediatrics).  These targeting training programs involve proprioception and neuromuscular exercises, which improve core and leg stability, strengthen stabilizing muscles, improve reactions to movement, and teaches avoidance of improper knee positioning.  Training young athletes for sport should include these exercise principles and protocols.
Surgery was traditionally avoided until bones had matured, however newer, less invasive techniques have allowed for much earlier stabilization, resulting in better outcomes.  At this time, ACL reconstruction surgery has been found to be 90% effective in restoring stability of the knee, according to a report in the May 2014 issue of Pediatrics.  Surgery combined with effective physiotherapy can allow a young athlete to return to sport in approximately 9 months.
Even with more effective surgical outcomes, research shows that people who have had an ACL tear are up to 10 times more likely to develop early-onset knee joint osteoarthritis.  50% will develop this joint degeneration within 10-20 years.  This can result in long term knee pain and future surgeries and joint replacements.   Athletes with ACL tears at 13 years of age can grow to develop significant knee problems in their 20s and 30s.
Therefore the role of prevention to improve knee stability is essential and should have much more emphasis placed upon it, despite improvements in surgery.
--- Questions? We're happy to help!
Choosing the right service provider can be a big decision. We're dedicated to answering any questions you have to help you make the best choice. Contact us today and ask us anything!
Call us at (416) 595-5353