by Giacomo Silvestri    MScPT   FCAMPT
Registered Physiotherapist
updated Apr 15, 2021
Lateral Epicondylalgia (also known as Tennis Elbow) is a very common reason clients seek Physiotherapy.  The irritation of the lateral epicondyle (outer aspect of the elbow) was made "famous" by tennis players but can happen to you regardless of your involvement in sport.  It is usually caused by overuse of your wrist extensor muscles (pictured below) leading to irritation of the tendons in that area and pain with activity.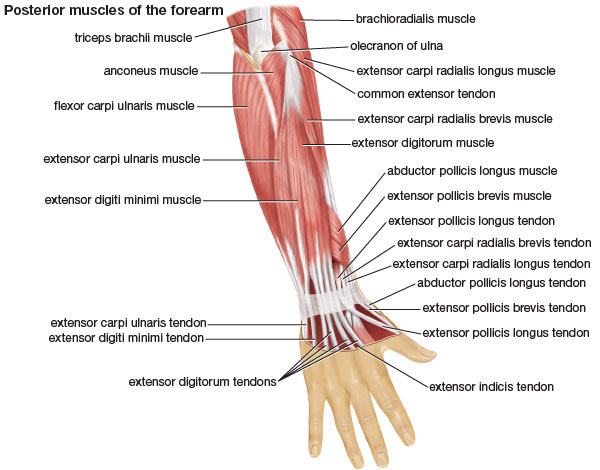 One of the main things to consider when you're suffering from pain at the outside of the elbow is the potential of multiple pain-generating structures.  Although true tennis elbow is due to irritation of your wrist extensor tendons, pain in this area can be the result of several different factors.  It can be generated from neck irritation,  nerve entrapment, bony conditions, or systemic inflammation.  This is one of the many reasons why consulting a trained Physiotherapist is essential when you're looking to fix tennis elbow. 
Many clients ask, what is the best treatment for tennis elbow?  That's a great question, but effective tennis elbow treatment is tailored to you, starting with a detailed assessment and followed by evidence-based treatment.  While we won't cover all of the techniques used for this condition, our goal is to show you the most scientifically-backed treatments available to you.
Who Gets Tennis Elbow?
Even though almost half of tennis players will experience tennis elbow, it is a bit of a misnomer.  Playing tennis has only been shown to contribute to 5% of tennis elbow cases, so there are many other activities that can lead to this injury.  Tennis elbow is very common, affecting between 1 and 3 percent of the population.  It is most common in people age 20 to 65 years old, peaking between the ages of 40 and 50.
What Causes Tennis Elbow?
The exact pathology of tennis elbow remains unknown, but it is believed that repetitive strain from activities involving loaded and repeated gripping or wrist use lead to microscopic abnormalities within the tendons located at the outside of your elbow.  If this is left unchecked, the tendon can develop abnormal structure including abnormal blood flow.  Contrary to popular belief, recent research shows little evidence of inflammation in the extensor tendons with tennis elbow.
What are the Common Symptoms of Tennis Elbow?
Common symptoms associated with tennis elbow include:
Pain starting 24 to 72 hours after the irritating activity involving your wrist/elbow (i.e. sport, work etc.)

Pain on the outside of your elbow that may radiate down to your forearm

Pain and weakness with lifting or gripping using the affected arm
Can Tennis Elbow Heal on its Own?
Tennis elbow symptoms may improve if you stop performing the pain-provoking activity.  Although the pain gets better, this does not typically mean that the injury has resolved – you've simply stopped irritating it.  Most patients find that the pain will return with the resumption of the activity or other activities involving significant wrist movement.
How Long Does Tennis Elbow Take to Heal?
In most cases, with the avoidance of aggravating activities, 80% of patients with tennis elbow will be better within 6 months and 90% will be pain-free after on year.  In reality, the natural course of tennis elbow is different from patient to patient can last for more than two years in some cases.  Research has shown that treatment for this condition can reduce the duration of symptoms and lead to resumption of activity faster when compared to no treatment.
What is the Best Treatment for Tennis Elbow?
As we alluded to earlier, the best treatment for tennis elbow, is the one that is tailored to your symptoms, activities and most importantly your goals.  Many clients will ask "does physio work for tennis elbow?" and for most of our patients, luckily the answer is yes!  Here is a list of some of the treatments you can expect from your Physiotherapist to help fix tennis elbow.
Treatments For Tennis Elbow
Manual Therapy for Tennis Elbow
Manual therapy, describes the collection of treatments Physiotherapists use including joint mobilization and soft tissue release to treat tennis elbow.  There is good evidence to show that manual therapy can have immediate effects on reducing pain and grip strength.  
Exercises for Tennis Elbow
Exercise is key to the management of tennis elbow for most patients.  There is very strong evidence to suggest that exercise (in conjunction with a multimodal physiotherapy regime) can lead to greater and faster improvements, less sick leave from work, fewer medical consultations and an increased participation in work and sport.
Braces for Tennis Elbow
A tennis elbow strap (also known as a counterforce brace) has been shown to be helpful in improving grip strength and pain in some patients with tennis elbow.  However, more recent research has shown that a wrist splint can help reduce pain to an even greater extent.  Speak with your Physiotherapist about which brace is best for you.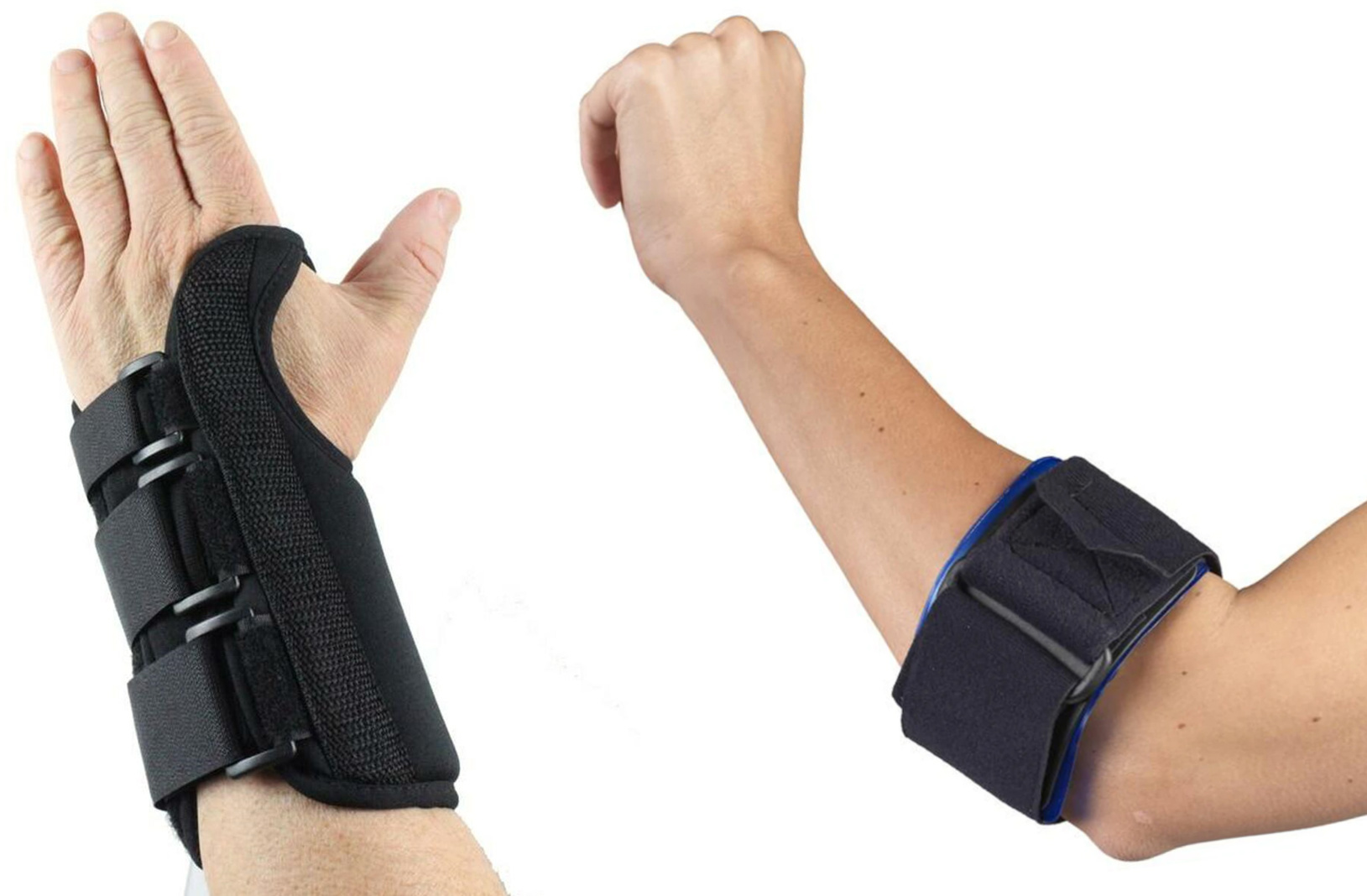 Shockwave Treatment for Tennis Elbow
Extracorporeal Shockwave Therapy is a technique which uses a machine to exposed tendons to strong mechanical wave impulses to improve the cellular make up of the tissue.  It has been shown to be a safe and effective treatment for tennis elbow, improving pain and function both immediately after treatment and after 6 months.
Acupuncture and Dry Needling for Tennis Elbow
Acupuncture and dry needling are both techniques that use acupuncture needles to help improve blood-flow to the area, reduce nerve irritation and improve the quality of the surrounding tissue.  Both techniques have been shown to improve pain and function in the short term following treatment.
---
Overall, treatment for tennis elbow can involve many techniques which should be tailored to your specific condition.  Be sure to find a trusted physiotherapist to help you find the treatment that is right for you and get you back to doing what you love.
REFERENCES:
Bisset, L. M., Collins, N. J., & Offord, S. S. (2014). Immediate effects of 2 types of braces on pain and grip strength in people with lateral epicondylalgia: a randomized controlled trial. The Journal of orthopaedic and sports physical therapy, 44(2), 120–128. https://doi.org/10.2519/jospt.2014.4744
Coombes, B. K., Bisset, L., & Vicenzino, B. (2015). Management of Lateral Elbow Tendinopathy: One Size Does Not Fit All. The Journal of orthopaedic and sports physical therapy, 45(11), 938–949. https://doi.org/10.2519/jospt.2015.5841
Cutts, S., Gangoo, S., Modi, N., & Pasapula, C. (2019). Tennis elbow: A clinical review article. Journal of orthopaedics, 17, 203–207. https://doi.org/10.1016/j.jor.2019.08.005
Garg, R., Adamson, G. J., Dawson, P. A., Shankwiler, J. A., & Pink, M. M. (2010). A prospective randomized study comparing a forearm strap brace versus a wrist splint for the treatment of lateral epicondylitis. Journal of shoulder and elbow surgery, 19(4), 508–512. https://doi.org/10.1016/j.jse.2009.12.015
Keijsers, R., de Vos, R. J., Kuijer, P., van den Bekerom, M. P., van der Woude, H. J., & Eygendaal, D. (2019). Tennis elbow. Shoulder & elbow, 11(5), 384–392. https://doi.org/10.1177/1758573218797973
Meunier M. (2020). Lateral Epicondylitis/Extensor Tendon Injury. Clinics in sports medicine, 39(3), 657–660. https://doi.org/10.1016/j.csm.2020.03.001 Questions? We're happy to help!
Choosing the right service provider can be a big decision. We're dedicated to answering any questions you have to help you make the best choice. Contact us today and ask us anything!
Call us at (416) 595-5353