by Laurel Brewster  MScPT 
Pelvic Physiotherapist
updated Nov 21, 2021
---
It is Important to properly recover after labour, before returning to exercise and running. Take time to let your body heal, let stitches heal, let your body rest after such a long, exhausting, potentially traumatic experience.
Take the first few weeks to really bond with your new baby.  Get used to your new routine and sleep schedule (or lack thereof).  It is a priority for many women to get back to their normal level of function, normal exercise routine and fitness level. It is safe to get back to running and higher impact activities after having a baby, as long as you prepare your body properly and regain the foundational strength needed to return to running safely.
Is it safe to run after pregnancy?
Yes. It is generally safe to run after pregnancy. But you should consult your OBGYN, midwife, or pelvic health physiotherapist first, to be given proper clearance for running. 
Unless there are other individual health risks, it is safe to return to a low-moderate level of exercise 4-6 weeks postpartum. Running is a moderate-high intensity activity, so there are more factors to consider before returning to running.
Vaginal delivery or C-section?

Episiotomy or tearing during delivery?

Activity level prior to and during pregnancy?

Baseline lower body and core strength?

Pelvic floor muscle strength?
These factors will impact your specific timeline for returning to running, and will guide your physiotherapist's treatment and exercise prescription that are necessary to achieve this goal.  
How soon can I run after giving birth?
Women are often ready to run around 12 weeks after giving birth. Prior to running, it is important to implement an active recovery program to prepare the body for the higher intensity and higher impact exercise. 
Once you have been cleared for exercise by your medical professional or your pelvic floor physiotherapist, you can start your active rehab program. At approximately 6 weeks postpartum, exercise intensity and load can increase.  Ideally this is under the supervision and guidance of a pelvic health physiotherapist.  
Prior to 6 weeks, women can begin working on their pelvic floor muscle strength and endurance, breathing exercises and light core activation exercises. You should not have any pelvic floor issues while walking, before introducing running. Your recovery timeline will depend on your body and your birth story. 
Will I injure myself if I run too soon after pregnancy?
Running too fast, too much or too soon, for your body to adequately adapt, is a common cause of injury in all runners. Postpartum runners may be at a higher risk of injury for a number of reasons. 
Risk Factors for Injury Postpartum:
Running within the first 3 months postpartum. 

Obesity

Pre-existing conditions

Breastfeeding (reduced bone mineral density)

Cesarean-section

Poor progression of intensity or frequency
Signs that you should stop running after pregnancy.
If you experience any of the following symptoms as you begin running, contact your pelvic floor physiotherapist or your family doctor before proceeding with your return to run program. 
Urinary or fecal incontinence (leakage)

Vaginal bleeding returns (unrelated to the menstrual cycle)

Pain, pressure or heaviness in the perineal/vaginal region

Joint or muscle pain 
Your body may not have had the time necessary to recover from the birth. Strength, endurance, balance,  impact absorption, and pelvic floor function, all need to be restored and properly trained prior to returning to running.
Can I run while breastfeeding?
Breastfeeding is no reason to stop running. However, there are things to be aware of when running or performing higher intensity activities while breastfeeding. 
Sports Bra
You will want to get a supportive sports bra that provides more support than your pre-pregnancy sports bras.  Your breasts will be bigger and more full, requiring more support with higher impact activities. There are nursing sports bras on the market that provide the necessary support, but are also easily adaptable to nursing your baby at any time. (Some may choose to use a nursing sports bra even when you're not running!)
Pre-Run Feed
Depending on your milk supply, you may find it more comfortable to empty your breasts prior to your run.  Feed the baby before you go, self-express your milk, or pump to reduce the weight and stress on your chest during the run. Running with full breasts can be quite uncomfortable. 
Increased Caloric Intake
A lot of your daily caloric intake is sent to your breastmilk to provide nutrients and energy for the baby.  It is recommended that a breastfeeding mom get at least 500 extra calories daily in her diet. 
Calcium Intake
Be sure to increase your calcium intake as well.  In a breastfeeding mother, calcium is pulled from her bones for her increased milk supply. It is very important that you get enough calcium in your diet to support your milk supply, your baby's health, and maintain adequate bone mineral density during this phase of motherhood. Stress fractures are more common in breastfeeding mothers who return to running, if they do not maintain strong bones with adequate calcium intake.
Plan your run
Schedule your run between feeds or immediately after a feeding. This way, your baby will be content for the duration of your run. Whether they are in a stroller running with you, or another family member is watching them at home. 
Contrary to some beliefs, running will not reduce your milk supply. Running while breastfeeding is completely safe, as long as other health/injury risks are cleared by your pelvic floor physiotherapist or family doctor.  
Postpartum return to running plan
Week 1-6:  Gradually progress through the following recovery activities. Your OB-GYN or Pelvic
Health Physiotherapist can help guide you through these. 
Rest

Breathing exercises

Progressive kegels (pelvic floor strengthening) – if deemed necessary 

Postnatal yoga/pilates

Walking

Gentle exercise (upper body – if vaginal delivery; lower body – bodyweight only) 
Week 6:  Follow up with your pelvic health physiotherapist to begin postpartum rehab and return to running preparation.
Week 6-12:  Prepare the body for running
Strength training

Plyometric training (impact work)

Endurance training

Single leg exercises
Week 12:  When your physiotherapist thinks you are ready to go for a run, there is a pelvic floor screen and return to running screen that will be conducted. Components of this screen include:  
Pelvic floor endurance/strength
Grade 3 MMT (lift fingers to pubic bone in crook lying and standing)

10x fast reps 

8-12 reps of 6-8 second maximum voluntary contraction

60 seconds submaximal 30-50% contraction
Load/impact management
Walking: 30 minutes 

Single leg balance: 10 seconds/side

Single leg squat: 10 reps/side

Jog on the spot: 1 minute 

Forward bounds: 10 reps 

Single leg hop on spot: 10 reps/leg 

Single leg 'running man': opposite arm and hip flexion/extension (bent knee): 10 reps/side
Lower body strength
Single leg calf raise: 10x/side

Single leg bridge: 10x/side 

Single leg sit to stand: 10x/side 

Side lying abduction: 10x/side
When you pass the return to running tests, you are ready to go for your first run!
Week 12+:  Begin with a gradual return to running schedule. 
Your physiotherapist will help design a running schedule specifically for you.

Here is an example: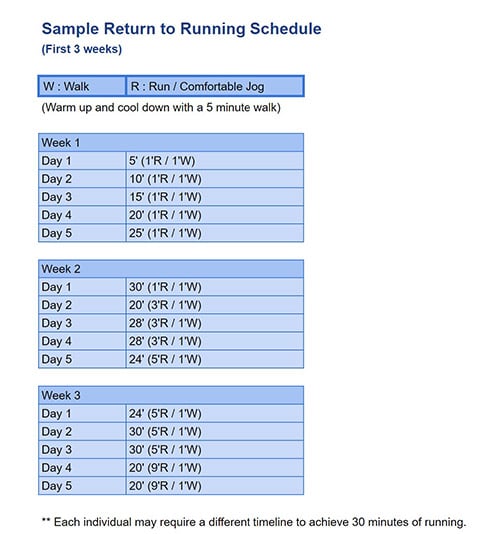 Learn more about running while pregnant by clicking here.
---
REFERENCES
Groom, T., Donnelly, G., & Brockwell, E. (2019). Returning to running postnatal – guidelines for medical, health and fitness professionals managing this population. 
Mihevc-Edwards, K. Considerations for Postpartum Runner. January 2019 Strength and Conditioning Journal Publish Ahead of Print(&NA;):1 
Mihevc-Edwards, K., & Green, B. (2019). Go Ahead Stop and Pee: Running During Pregnancy and Postpartum. The Space Between, USA. Questions? We're happy to help!
Choosing the right service provider can be a big decision. We're dedicated to answering any questions you have to help you make the best choice. Contact us today and ask us anything!
Call us at (416) 595-5353